Your Achievement Guide to Develop Your
STRATEGIC  MASTER  PLAN
By   John Ryder, Ph.D. 

Webinar Recorded Jan. 6th at 5.30 EST
Thank You for Registering.  
YouTube Video of the Webinar:
Refer to the Notes below.
Congratulations you are on your way to achieve more in your life!  There is no doubt that those people who take time to think about the future and plan things enjoy greater success.  The evidence is plentiful – those who succeed and beat the odds, had a plan and used it… those who did not have a plan, most often never gain the success hoped for.  So, utilize this Strategic Master Plan  program and all the tools here.
This is NOT about wishful thinking.  This is about developing a clear, specific, detailed plan of what YOU want to accomplish in the near future.  If you follow the steps described here and apply the techniques and instructions given, you will enjoy greater success.  This is an important exercise for the mind.  Once you complete this process, you will be much better prepared to apply these tools in the future much more effectively, helping you achieve more throughout your life.  This process takes time and effort, the more you put in, the more you get back.  First, there is a VISUAL PICTURE, or the SMP map.  Secondly, there is the bullet point LIST of the 5 Gears that gives you the tasks you must constantly refocus on to make progress.
Success will bloom when you cultivate the necessary conditions.  This is an exercise to get you to brainstorm about building a strategic plan or vision of what you wish to accomplish.  Then gathering all the resources you require.  As you begin to put all this together – an image begins to appear.  You must follow the instructions so that you get yourself organized, motivated and then apply all your strength to make it happen.  Be prepared to deal with obstacles, difficulties and hardship.  With the right mind set, energy and a great plan – you will reach success and achieve your goals!
THIS IS WHAT YOU MUST DO:
ANALYZE:  Review all your potentials and alternatives… What are your Current Challenges and Resources  – Identify what you have and need for success… Evaluate your Risks – Results & Rewards.  Time to think.
 ORGANIZE: Develop Your Action Plan – Major Goals –  Schedule  Growth – Identify how you will develop your Plan – Strategize!  Invent NEW ideas and ways to reach them.  Figure out the categories, factors, elements for success.
MONETIZE: What will produce income… Create multiple streams of income – Consider your investments… Calculate how you will invest and generate money. 
PRIORITIZE: Make lists by Importance rather than urgency –  Create a Time-Line – Debate risks and set specific goals and determine what you need for the  Mind – Body – Spirit  and Utilize the Five Gears of Achievement
ACTUALIZE: Take massive action, get motivated, determined and focused on superior performance and fast progress – Consider how your ideas will impact others – Do whatever it takes to succeed responsibly!
REALIZE: Achieve your goals and enjoy life!  Express your gratitude and share your progress with others.  Nurturance & Support – take care of yourself and enlist others help to make this journey fun!
CAPITALIZE:  Enjoy the rewards of your hard work.  This is where you realize the profit from your investment.  Keep your money circulating, reinvesting, saving, and enjoying the good life!  Rest and recharge.  Repeat.
COORDINATE  THIS  PROCESS
The  3  Phases of Achievement:
Immediate Goals  Resources – who, what, when, where, why, how…
Time Management: NOW… today, tomorrow, this week…  Take action. Describe your immediate plan, map out your vision, connecting resources to goals, and begin to carefully prioritize your ideas.  Get support, take care of your needs and yet be prepared to do whatever it takes to make progress.
Short Term Goals  Resources -who, what, when, where, why, how…
Next Weeks to months – Create the big picture – Create your Time-Line – monitor progress – develop clear targets Contingency plans – have alternatives ready – jump at opportunities Set criteria for success – know what to expect – when to reward yourself and when to push harder
Long Term Goals  Resources – who, what, when, where, why, how…
Months, years, decades, lifetime…  Have a clear 5 and 10 year plan.  Major Markers of progress – Accumulation of Goals – Stability – Security – Recognition:  How will your results affect your future on the personal, social, and global levels
NOTE:  You will receive an email soon with more details.
Watch the 3 Live Webinars or the recorded video.
Follow  @DocDelivers  on Twitter
Join the PSC community Blog SMP Blog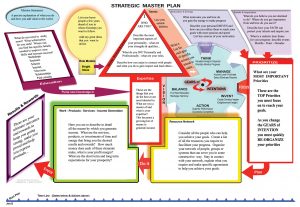 INSTRUCTIONS TO PREPARE YOUR PLAN:
STEP 1
Find the right space and time to brainstorm about what you really wish to accomplish.  Give yourself at least 2 hours to write all the ideas, dreams and plans that come to you.  If you have a plan already, develop it further and see what other goals fit with it.  This should take into consideration everything that matters.  Figure out what you truly want.  This requires that you clearly describe the specific goals you have.  Create a large list, include the simple, easy goals, as well as your wildest dreams; consider things you can accomplish quickly as well as complex things that may take a lifetime.  The key here is to imagine whatever is reasonably possible for you to achieve.  Write it down.
STEP 2
Review your lists of goals and begin to organize it from the simple to the most outrageous.  Consider how to prioritize your goals and what you need to do, learn, acquire, purchase, prepare, who do you need to recruit, hire, or gain help from in order to reach your ultimate goals.
STEP 3
Time for self analysis.  Consider your situation in life, your assets, liabilities, and identify your strengths, your talents, abilities, and personal resources which can help you.  Become aware of the limitations you are facing, negative influences in your life and reflect how to minimize these problems.  Focus on all your positive strengths and pull all these elements together and start to develop a detailed list of resources you can utilize to accomplish your goals.  You can use the CQ system of Spheres that may help you identify your best traits.
STEP 4
Bring all the above information together and begin to review the various elements.  The following format will help you develop a successful plan or map to reach your goals!  First start with a rough, brief outline of your projects using the 3 Phases of Achievement –  Immediate, Short Range and Long Range goals.   This will help you organize and prioritize your goals.  Under each heading list as many specific ideas as you can, then prioritize them from the most to least important.  Part of this is developing a time line which clearly indicates when you are supposed to reach specific goals.  Immediate goals refers to actions for the next hours, days or weeks.  The short term goals refers to tasks for the next weeks or months.  And the long term goals should reflect your plans over the next few years or even a lifetime. Use several pieces of paper or one large board for your final plan.
STEP 5
Stop and rest, sit back and reflect, what are you most excited about and what seems most difficult?  Take your time to consider the big picture as well as the details.  What captures your interest and seems to the central idea that you orbit around.  This may be the central unifying point – it is meant to offer you meaning and purpose to your plan.  This becomes your Mission Statement.  Write down a short, concise mission statement that you relate with and feel aligned with.  Polish this until you are happy with it.
______________________________________________
REFER to the SMP content below 
STEP 6
Next pick a strategic plan template.  The SMP is a bit more complex but offers more detailed factors to utilize in developing your plan.  The more simple template can work well if you prefer a more straight forward plan.  Also you can design your own plan based on what you see in these two.  The key is to have a clear system that allows you to organize all of your details in a efficient and useful way.  Once you have identified your major goals, start to fill out the boxes in the plan with your personal details.  Follow the suggestions on the worksheets to develop your plans
STEP 7
Now you are getting ready to complete your Strategic Master Plan.  Be mindful to go over your notes and work carefully to include as many important details as possible.  This will prepare you to accelerate your progress and utilize your time most efficiently.  As you develop your visual plan the steps required will begin to become more obvious.  Make sure to include all the resources you require for long term goals.  The purpose of this SMP is to offer you a visualization of what you are doing and how you are going achieve success.  The next step is to complete a "Bullet Point" list of your goals and plans that is placed into the Five Gears of Achievement.  This process helps you constantly shift focus and maximize your resources, opportunities and potential.  This bullet point list becomes what you use to accelerate progress and keep your performance at peak levels.
 

Completing the SMP
These instructions will serve you best if you read through this once before beginning to actually work on your  STRATEGIC MASTER PLAN (SMP).  There are also videos of the webinar recorded for your review.
WISH LIST  vs   MUST LIST: This is a very important exercise – pick the right time to brainstorm!  Spend as much time as you require to consider all the relevant aspects of your future goals. Write down a Long List of all your desires, dreams, fantasies and concrete plans.  Start with a rough draft, play freely, express yourself…  Create a special LIST of GOALS that you want to achieve.  Circle and underline the most important ones.  This will slowly evolve into a major life plan that will help you achieve much more.  When you are ready to work on your plan, take the SMP and follow the instruction below to fill out the 12 boxes.  Each represents the necessary elements of your foundation to successfully build your life plans. 
PRINT OUT THE SMP 
Find the – SMP  which you prefer to work with there is a PDF you can fill-in on a computer or just print and fill-in by hand.  Download the PDF Fill-in and fill in each box (you must use the mouse pointer to pick each field to write in) with the details of what you are working on and then print it out in Landscape mode or take it a copy shop to print it in even a larger format like 11×17.  This will give you a better picture of your master plan and help accelerate your achievements!  The Master Action Plan is the simplified version.
Identify your VISION – Define the most POSITIVE image of your big plan; that means what can be part of your growth, progress, achievements not the limitations or problems, the SMP is all about the forces that support you moving forward and upward.
SELF: (Red Triangle)  Who are you?  Describe your Identity as the achiever you want to be.  What are your most important personality characteristics for you socially and professionally – (start at the top)?  Who do you want to be known as?  How do you want people to describe you?  What qualities are you relying on to achieve your goals.  
TALENTS: (Rose box) List your best and most useful talents you have been developing.  These are your personal natural resources. 
EXPERTISE: (Red Column below Triangle) List what you are confident are your best skills.  This is what you are (or becoming) an expert in.  This should reflect the skills that you know are superior to other people and allow you to excel. They can be artistic, mechanical, theoretical, practical, or anything at all that you can do better than others.
MISSION: (Oval) Summarize the essence of what is the purpose of your life.  Your mission becomes your motto and reflects what you value the most in your life.
ROLE MODELS: (Bulb) List some of your favorite individuals who are doing what you wish to be doing.  These should be a few people who are 5 to 20 years ahead of you and have earned your respect.  Study these individuals and follow in their footsteps.  Also you can add here Great Ideas that you had or have heard that you want to act on.
EDUCATION: (1st Purple box) Describe the sources of information that can help you improve.  These can be schools, teachers, consultants, or even the internet.
RESULTS & REWARDS: (lower Purple box) What outcomes are you seeking?  What will be most rewarding to you?  What results will fulfill your needs the most?  This is a list of the things that give you a sense of enjoyment and pride in life.
MOTIVATION & ENERGY: (Blue Gear Circle) Identify what you are DRIVEN by and what gives you the most passion to climb after your goals.  These can be the ideal concepts of what you want to be or already are doing.  Recall what you are driven by, connection or significance and certainty or uncertainty so that you can apply your drive to motivate you the most.  Understand where your energy comes from and how it can be directed to overcome the challenges your will be facing.  This is the mechanism of your passion that turns the Gears of Intention through the five functions.
FAITH  & INSPIRATION: (Grey Parachute) What do you believe about yourself and your life?  What do you believe about the universe, spirituality?  What do you think is your destiny?  What inspires you?  Where do you get FAITH from and how do you use it to achieve more in life?  Your Faith functions like a parachute, so when you are confronted by major obstacles or problems, even if you fail at first, you land on your feet and then regroup yourself to continue your journey towards success.
RESOURCE NETWORK: (Yellow Box) This represents any groups or individuals who can support your vision.  This can also represent machines, factories, technology, special knowledge, all the things that you require to accomplish your goals.  Identify any specific resources and who will deliver them to you.  This includes your marketing, publicity,   Determine the costs and time factors.
WORK – PRODUCTS – SERVICES: (Green Box) What generates INCOME?  Describe the ways that you can monetize your plan to earn a healthy income from your work.  Get specific on how each aspects produces a profit, describe the investments and expected returns.  Calculate your projections over time, how things should grow.  Include all the various sources of money or returns on the energy you invest.
Now is time to reflect about the specific activities that you will be engaged in as you shift your focus through the five functions.
PRIORITIZE: (Tall Red Box) Here you must finally begin to sort out what comes first, second and last.  This part must remain flexible and depends on which "Gear" you are invested in: THINK, ACQUIRE, CREATE, ACTION, or BALANCE.  For each function you must shift your Focus on what is most important at that time.  Shifting Priorities is the main skill to develop and here you can visualize how to do it well.  List "bullet points" here for all five functions.  The resulting list of actionable activities will keep you focused on achieving your goals effectively.
The key is to be able to shift priorities quickly and easily to maintain a very high degree of performance.  Refer to the graph to consider your overall plans and specific targeted goals.  As you develop the final list of priorities they will take turns being in focus as the others wait.
TIME LINE: This is represents your realistic targeted future plans and what you intend to achieve by specific dates.  This should be based on KEY WORDS that enable you to monitor your progress effectively.  Dates may change but should be noted below the line.  This gives you a distinct plan of anticipated action that follows your vision, utilizes your energy and keeps you focused on the next most important goal.  Start with NOW and then weeks, months and all the way out to 1 year and beyond.
This is your Strategic Master Plan that is based on what you want and believe you must accomplish in life.  The potential you have to achieve the goals you have dreamed of all your life is within your reach just follow your plan and make it happen!   JR
5   Gears of Achievement
Now – based on your plan create the Bullet List of Tasks you need to refer to frequently to maximize your progress.  This gear moves because your passion turns the gear of motivation and energy to shift your focus to a new function.  As you change your focus you must shift your priorities; that is how this system helps you maximize your time and energy for progress.
THINK                Analyze, Visualize, Organize, Prioritize, Realize, monitor, reflect, compare, measure, debate, predict
ACQUIRE            Manage activities, learn new skills, purchase needed resources, practice, exercise, improve, develop, grow
CREATE              When in the mood: invent or create and develop your projects, ideas, gain insight, enlightenment, transcendence, inspiration.
ACTION              Constantly improve your superior performance and complete tasks, work, labor, doing more, raising the bar
BALANCE            Rest, fun, relaxation, recharge, alignment, harmony, escape, refresh, reflect, play, prepare, return to work
_________________________________________
THIS IS THE "BLANK" COPY OF THE 5 GREARS OF ACHIEVEMENT…  SO – COPY AND PASTE THIS PART BELOW…  THEN FILL THE SPACES BELOW EACH TOPIC WITH THE DETAILS FROM YOUR STRATEGIC MASTER PLAN.  THEN PRINT IT OUT AND POST IT ON A BOARD TO BE ABLE TO REFER TO THIS TASK LIST OFTEN.
5 GEARS of ACHIEVEMENT
| | |
| --- | --- |
| Major  Projects   | Frequent Tasks |
| 1 | |
| 2 | |
| 3 | |
| 4 | |
| 5 | |
| 6 | |
| 7 | |
| 8 | |
THINK *ACQUIRE *CREATE *ACTION *BALANCE
  G e n e r a t e   I n c o m e        Achieve  Goals
THINK: PLAN   ONGOING  TASKS
REVIEW – ANALYZE – ORGANIZE – PRIORITIZE – MONITIZE – ACTUALIZE – REALIZE – CAPITALIZE
BIG GOALS – SCHEDULING – FUNDING – SHIFTING FOCUS   
  ACQUIRE –  Tasks to Complete
LEARN – PURCHASE – GATHER RESOURCES
  CREATE  –  Invent – What's Unique – Original
BRAINSTORM – #1 Priority – when in the mood create
TAKE  ACTION
TASKS TO PERFORM – SPECIFIC GOALS TO ACCOMPLISH – ACT ON PLAN – WORK –  SHORT TERM  –  LONG TERM
ONGOING  PRODUCTIVITY  TASKS
Small Goals – Repetitive Work
  RESEARCH  &  FOLLOW UP
Bigger Goals and Refocus on TimeLine
  BALANCE + REWARDS & CAPITALIZE
REST – RECHARGE – REFLECT  +  ENJOY
______________________________________
ESTABLISH A TIMELINE
NOW
TODAY
TONIGHT
TOMORROW
JANUARY
WEEK  1
WEEK  2
WEEK  3
WEEK  4
FEBRUARY
MARCH
APRIL
MAY
JUNE
JULY
AUGUST
SEPTEMBER
OCTOBER
NOVEMBER
DECEMBER
NEXT YEAR
5 Year Goal
10 Year Goal
SCHEDULING:
The final task is to create a Timeline.  It should start now, and move in days, weeks, months and years, whatever time frame is most appropriate for your projects and goals.  Take a calendar and mark it up with specific dates, deadlines, and goals to reach by a certain date.  This helps keep you accountable and honest as you monitor your progress and adjust what may require recalculation.  This is the system that will keep you aware and focused on your goals and plan.
COPY THE MATERIALS ABOVE THIS LINE 
__________________________________________
 FINAL  DETAILS
We all are given exactly the same amount of time, how you manage your time is totally up to you.  Be mindful to manage your time efficiently, that is the purpose of utilizing a Strategic Master Plan.
Establish a logical, progressive plan of action; what would be the most natural series of events that you might expect?  Remember your flexibility and positive attitude will allow you to take every challenge as a new opportunity.  Follow the first rule of success: never give up and you will join the ranks of all those super successful people!
Think Big, create a realistic Time-Line of events, and start to manage all the demands and possibilities.  Be ready to take calculated risks that you can afford to take.  Build upon each small success and follow in the footsteps of others who have been successful in a similar path to you.  This is your strategic plan.
KEEP IMPROVING YOUR PLAN:  After you have a good sketch of your plan then, prepare a clear, organized edition of this on a large piece of paper to pin up on your wall!  Refer to this chart often and monitor your progress.
Summary of Achievement Energy Fuel
Focus on your purpose  – Believe in yourself –  Ambition  –  Inspiration  –  Motivation  – Optimism  – Confidence  Positivity  – Creativity – Accepting  –  Logical  – Flexible – Harmonizing  – Dedicated  – Eager – Energized –  Driven Will Power – Imagination – Monitoring – Set Rewards – Be Proud of Progress  – Resourceful – Generous – Loyal Honest – Respectful:
Now Visualize – Organize – Prioritize – and Realize your Goals!  Then Celebrate!
Be ready to take calculated risks that you can afford to take.  Build upon each small success and follow in the footsteps of others who have been successful in a similar path to you.  This is your strategic plan.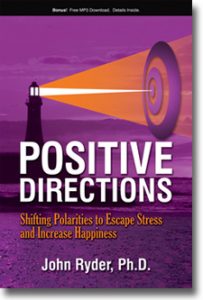 Copyright © 2009 © 2018
Keep going in Positive Directions!
John Ryder, Ph.D.