Welcome to the Positive Science Center
Greetings from Kentopia!  After many miracles we have finished this fabulous Log Cabin!   You are welcome to come visit our Center or see the various programs and events we are planning.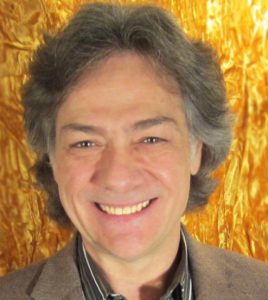 SPONSORS… I am giving away a case of Veuve Clicquot Champagne to the person who helps us obtain a major donation (over $5K) because you know we are only 6 degrees of separation away from that Special Sponsor… So please connect us… but we appreciate your support in any amount… maybe you can help too!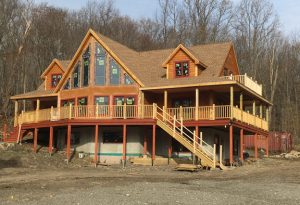 We must raise another $65,000 to maintain our yearly budget.  Please help us raise any money or gift is most welcome.  Any donation is appreciated but if you can connect us with a wealthy donor who sponsors our project we will give you a case of great champagne to celebrate!  So far, you can see we have a big cabin standing tall working on the inside details now.
You are invited to join the Founding Circle of Friends – Any Donation will serve the Greater Good for a long time!  And you will forever enjoy the privileges and discounts for joining our group!  We really need as many people as possible to join our group to qualify for other grant programs, it is FREE to join! 
The Positive Science Center is a Not-for-Profit corporation registered in New York and recognized by the IRS as a 501 C3 public Charity – donations are tax-deductible. 
Please make an INVESTMENT your contribution will be paid forward many times!  Click below to Donate any amount you wish!  Thanks!
To our dear Sponsors, Benefactors and Major Donors
Bragging Rights:

"I support the Positive Science Center…" Does sound nice
Become an Honorary Board Member and an Ambassador of  Positive Energy!   Please consider a generous contribution that will help launch our project to greater success!  We are prepared to work with you to dedicate a building, a program, or memorialize a gift of any size appropriately.  Please call us to discuss what we can offer and the best means to transfer funds.  Call Dr. Ryder or Please send donations  by check to:
Positive Science Center Inc.   109 E 36 St. #4,  New York, NY 10016
Details of the Capital Fund Drive
Through the past 4 years, we have raised over $645,000, which includes a construction loan from a local bank for $400,000 to build the large Log Cabin on the 5 acres that we purchased only 1 hour north of Manhattan.
The founder and leader of this project is John Ryder whom you know and can count on because he has dedicated his life to promote positive energy and is in the process of actualizing his vision of this center.  We have initiated our first capital fund drive to raise $1 million to build our center and sponsor the various activities and educational programs.  Every dollar counts. The center we built cost approximately $640,000 and will serve the community for perpetuity. So any investment, large or small will work forever into the future.  The truth is that I am the largest contributor with respect to cash and time invested, and I am 100% committed.
From Vision to Reality:  The first phase of this project is completed.  Now we are ready to start operating the center.  This center will be open to YOU as a retreat to visit, study, rest, have fun and recharge your mind, body and spirit.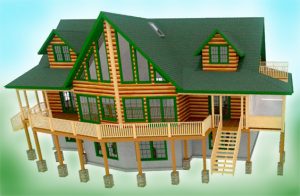 This Cabin has a huge Great room for events with 4 bed rooms and 4 baths for a total of 3000 sq ft of space all with a view of the lake.
 Gifts for Your Generosity:
We successfully completed the construction of the Cabin and now we will offer visitors Bed & Breakfast accommodations with overnight events to allow for a more immersive experience with positive psychology.  When there are no scheduled events we can enjoy the company of guests who have supported us in the past.  There are many things we want to offer you, access to our accumulating educational materials, workshops and of course visiting our center.  Here are a few "gifts" we want to share with our contributors.
FOUNDING CIRCLE of FRIENDS
$20 – Lifetime invitation to events at the PSC that will include discounts to lectures, workshops and other events in NYC as well as up at the Center.  You also get access to our library of information, videos and tools on our website.
Even if you cannot contribute now
please show your support and JOIN
the Founding Circle of Friends!
JOIN
Bigger Donations and Better Incentives:
$50 –  Invitation to a BBQ Event for 2 people at the Center
$100 – Invitation to a BBQ event for 4 people at the Center
$250 – Invitation to stay at the Cabin for a Weekend for 2
$500  – Invitation for 4 people (2 rooms) for 2 nights*
$1000 – Invitation for 2 people (1 room) for 6 nights*
$5000 – Invitation to use entire Cabin for 2 weeks*
          * these nights can be spread out over time as well
2 for 1
Every donation under a thousand dollars will be matched by the board to double the impact of your contribution.  As soon as our Center is completed you will be invited to visit and participate in a variety of activities and events.
Please send donations  by check to:
Positive Science Center Inc.   109 E 36 St. #4,  New York, NY 10016
OR  CLICK on the DONATE BUTTON below to contribute safely online or by credit card.  We also gladly accept material gifts such as cars, or property and other valuable objects.
We really NEED YOU to JOIN our MISSION so please click on the Donate button and make even a small $20 contribution as a member of our PSC family to show support. Everyone is invited to our grand opening Saturday and Sunday August 29 and 30.  Come join the Celebration!  Donations to the Center are tax deductible according to the law.  Please consult your accountant for details.  Any contribution over $250 will receive a formal receipt for IRS filing as required by the regulations.  The gifts we offer have no monetary value but are just our way to thank you for any contribution you make large or small.
We do acknowledge every donation in cash or in kind that you make to help promote our mission.  Every contributor gets access to our resources and we will send you an email periodically to inform you of events that you can participate in if you like.  We thank you for your support.  Our goal is to raise One Million Dollars in the next five years to facilitate the projects that we have begun working on.  The funds contributed can be dedicated to one of three general categories or towards  our overall general mission.
Program Sponsorship – to support educational activities: workshops, lectures, webinars…
Scholarships for individuals and groups – to give access to financially challenged people to participate in the various programs offered by the Center.
Capital Investments – these grants are to help develop the Center to build, expand and maintain operations of the center's activities.
The mission of this group is to utilize the scientific principles of positive psychology to study and determine the best ways to help people reach and enjoy greater well-being physically, emotionally, mentally, and spiritually.  This is accomplished by focusing on the strengths, virtues, talents and skills people have and can develop to achieve more in life.  The goal is for us to help promote greater peace, prosperity and progress individually, in the community and as a whole. 
Please Join and Contribute to our Mission:
Please let others know about our fund drive, we welcome all the help whether is it a cash contribution or some material donation. Perhaps you can volunteer your time, donate something we could use or even sell and use the funds.
You are welcome to visit our building site…  170 Waywayanda Ct.  Kent, NY 10512 
the Positive Science Center is listed in GPS and Google maps.
I R S   Letter of Certification: